Posted on
June 5th, 2008
by Tina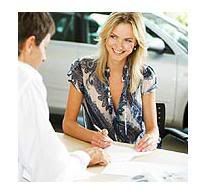 Just because you're a woman doesn't automatically make you an easy target for a wheelin' dealin' salesman – in fact, while you may be new to the car buying experience, you can still shop smart. 
Here's a handy list of things that can help:
Be a Cash Buyer
Try to get pre-approved for a car loan through your financial institution before you buy. Doing this automatically takes you out of the dealership financing equation and puts you in the driver's seat to negotiate a better deal with a lower interest rate. Being pre-approved, or a "cash buyer," also means you can shop with confidence and won't be tempted to buy vehicles that aren't to your liking since you'll know in advance what you can afford. 
Shopping Style
Do you shop better with or without friends and family in tow? I shop better alone since I find friends and family to be distracting when I've decided I'm ready to buy.  On the other hand, if you feel more comfortable having the support of friends and family, then take a tag-a-long or two, but make sure they're aware of your budget and the make and model or at least the style (coupe, sedan, hatchback, SUV, etc.) you're shopping for. There's nothing worse than being talked into buying something you don't really want by a friend who's fallen in love with something that's out of your price range or which doesn't fit your personality.
Take a Test Drive
While you may shop for movies, music and in some areas, even groceries online, it's truly paramount that you test drive any vehicle you may be considering to purchase.  While it's a time saver and often necessary to research information online, make certain you test drive those few vehicles you're really interested in.  All cars don't handle the same way – even when they're the same car.  It's easy to believe that since you test drove car A last week and found car B online at a cheaper price, that car B handles the same has car A.  Do yourself a favor and take it for a test drive – once you buy, you often don't get a second chance to change your mind.
Be a Monday Shopper
Unless the weekend is filled with sales and incentives to buy, such as the last weekend of the month, or holiday specials, try shopping for that new car early in the week.  Weekends seem to bring everyone into the dealerships, so the chance that you'll get the attention you require may be slim to none, especially when the dealership is crowded.  Keep in mind that salesman may be less than willing to make a deal or strike a bargain on busy days, reasoning that if you're not willing to pay the asking price, surely another buyer will.
Exit Gracefully
If you've got a salesman who is overly pushy and/or, isn't listening to your needs or requirements, you have the option to leave and you probably should.  You should never feel pressured to purchase something that doesn't suit you. In the event you feel that you are being treated unfairly or rudely, just leave. If you feel you need to explain your departure, forgo the details and just say you want to think about the vehicle in question , or there are other dealerships you wish to visit before making any decision. 
Remember: It's your money and you will be the one driving the car, therefore you have the right to be treated with respect.