Posted on
May 29th, 2008
by Tina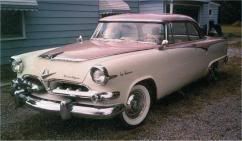 Back in 1955, Dodge introduced a car it called the La Femme.  The La Femme was the answer for women drivers who wanted something much less masculine, a lot more feminine and preferably pink.  
The La Femme boasted specially tailored fabric seats in a rosebud motif and lucky ladies who found themselves proud owners of the discriminating Dodge, also received a leather purse, rain hat, cape and umbrella, as well as a compact, a cigarette case and even a change purse all in matching rose colored hue – and not to worry, behind the front seats were special compartments in which to stow all your new pink stuff.  The exterior of this dainty little two door was decked out in two-tone Heather Rose and Sapphire White paint, specifically for that ultra feminine look.
In 1956, Dodge went one step further with the La Femme and switched up the interior, giving it a light lavender touch, pink and burgundy carpet and covered the door panels in an Orchid Jacquard" fabric.  Ooh la la!
These days, cars like the La Femme are a thing of the past, but incentives and luxury features are still an important part of the car buying process, and while we've come a long way since leather purses and matching compacts were the selling points to buying a car, we still want those little extras, because truthfully, little things really do mean a lot.
In a recent survey, published by Harris Interactive, a consumer research firm in Rochester, N.Y., consumers were asked what features they would most like to see on new cars, and rollover control and protection topped the list as the most requested feature. The study also shows that consumers who wanted enhanced or improved safety features were willing to pay more.  Many of the features requested are currently available on a few models, with the majority of manufacturers planning to offer the features in the near future. 
In order, here are the "10 Most Wanted" features consumers would like to have when buying a new car:  
10. Blind Spot Detection {Sensors determine if another vehicle is in a driver's blind spot}
 Where to find it: Infiniti EX35 and Volvo S80 and a few other models
9. Run-Flat Tires {Allow drivers to continue on down the road even when a tire has zero air pressure}
Where to find them: Chevrolet Corvette, Mini Cooper, Honda Odyssey
8. Adaptive Headlamps {Provide customized lighting based on driving conditions}
Where to find them: Lexus, Saab
7. Tire Pressure Monitoring System {Drivers are alerted to low pressure and slow leaks}
Where to find it: Corvette, Hyundai Veracruz & more to come
6. Cylinder Deactivation {Allows a V8 engine to operate on four or six cylinders in low-load situations}
Where to find it: Tahoe, GMC Yukon, and Jeep Grand Cherokee
5. LED Lighting {LED lights are used in taillights, brake lights, turn signals}
Where to find it: Cadillac Deville, some SUV's
4. Laminated Window Glass {Makes automobiles more resistant to break-ins, allows for a quieter cabin}
Where to find it: General Motors, Chevrolet Malibu, some Saturns
3. Self-Repairing Paint {Repair minor scratches in a few days without the need for a touch-up, closing on its own}
Where to find it: Infiniti, Nissan
2. HID/Xenon Headlamps {Use Xenon gas, which burns brighter, provides better visibility}
Where to find them: Luxury cars, sports cars, Mazda 3
1. Rollover Control and Protection {Side airbag system with enhanced electronics to keep airbags inflated while a rollover happens}
Where to find them: Cadillac Escalade, most new SUV's