Posted on
May 23rd, 2008
by Tina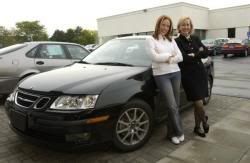 Just like the rest of the economy, supply and demand also controls the automotive industry; when popular cars sell like hotcakes, everybody wants one.  The automotive industry is production driven and the manufacturer controls the inventory shipped to the dealer. 
To better understand this, Hilary offers up a few great examples:
1.} Let's say you live in the Northeast and it's the dead of winter.  The dealer has ten convertibles on his lot, and because it's blustery cold and snowy, there aren't any buyers for the convertible, so the purchase price will go down.  The reverse is also true if there are ten Sport Utility Vehicles on the lot and a snowstorm blows through, you can bet the dealer already knows at least ten people will come in and want to buy one.  The price is set at the list price, so there's no need for a discount on the SUV; therefore the demand exceeds the supply.  On the other hand, if the SUV's were at the dealership during the summer months without any buyers, the price would go down. 
2.} In September or October, which is the beginning of the calendar year for the automotive industry, the manufacturer takes this time to plan inventories, set goals for the coming year and determines the number of vehicles to sell in the States.  Those who manufacture import vehicles will consider what other countries are willing to distribute, and if the vehicles are selling well abroad, it could hamper inventory in the States by not being able to make available has many of that particular make or model. 
3.} Keep in mind that a dealer is going to attempt to sell as many cars as possible within a thirty day period, because the dealer doesn't want to pay interest on the inventory on the lot since in most cases, a bank owns the vehicles and the dealer simply pays for the use of the money.  Also important to note is that the more inventory he moves off the lot or from within the dealership, the more money he earns from the manufacturer, or factory. This is what's known as an "earn and turn system, and it's just one of the ways a dealer grows his business.
Bottom Line: Inventory is supply and supply controls pricing.