Posted on
July 5th, 2008
by Tina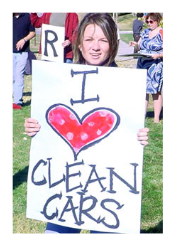 A vehicle is a hefty investment for sure, and not only does it cost a big chunk of change, but think about how often we use it and how long we actually spend in the vehicle itself driving to work, going back and forth to school, taking the kids to school, doing daily errands, taking trips the list is endless.  Keeping your vehicle clean and looking new is a big part of vehicle responsibility; nobody wants to sit in a messy, dirty car and while it's tempting to put things off until later or when things really start to pile up, a good weekly pick up and getting into the habit of a thorough monthly cleaning routine is the best way to go.  
Tips for Cleaning the Interior
• Remove the floor mats from front and back areas and give them a good shake outside.
• Vacuum all seating areas, getting inside the cracks of the seats as much as possible.  A hand held vacuum works well and if you intend to use a household vacuum for this, a small vacuum hose attachment works best so you can really get into cracks and crevices.  Most self service car washes have vacuums on the premises for use for a small fee. Move the seats to the farthest back position and check the floor for loose items, pens, change, etc., and then vacuum under and behind the seats.
• If floor mats are vinyl, use a sponge or soft cleaning brush and soap and water.  Scrub mats vigorously on both sides and rinse with clean water.  Dry both sides with a towel or let air dry.  If mats are the carpet type, vacuum and use carpet cleaner or carpet shampoo as needed, following product directions.  
• If seats or carpeting are stained, use a carpet cleaner or carpet shampoo on all stains following product directions. A compact deep carpet cleaner works best to lift stains, but elbow grease and a brush can sometimes do the trick, too.
• Clean windows using standard window cleaner and lint free or micro-fiber towels or cloths if at all possible, since paper towels leave a lot of lint and small bits behind.  Some also recommend using crumpled newspaper and a 50/50 distilled white vinegar and water solution in a clean spray bottle.
• Using a micro-fiber towel or cloth, paper towel or rag, wipe down dashboard, vinyl doors, cup holders, air vents, knobs and other visible areas.
• Leather seats require special attention, so you'll need to use leather cleaner, following product directions.  When seats are dry, follow up with leather conditioner.
• If seats are vinyl, wipe down with a vinyl cleaner and follow up with a vinyl protectant.  Also use vinyl cleaner to wipe down all other vinyl areas, such as door handles and dashboard.
Once you've got the interior sparkling clean, try these tips to keep it that way:
1. Bag It:  Keep a bag in your car specifically for trash. At the end of the day, just toss it in the trash.
2. Change It:  A coin purse or small tin box kept in your glove box or inside your console will keep your loose change together in one place. This is great for parking meters and tolls.
3. Scent It:  A ride in the car is more enjoyable when it smells good, so try out some air freshener and pick a few you like.  Be aware of overpowering scents and fragrances, however.