Posted on
May 20th, 2008
by Tina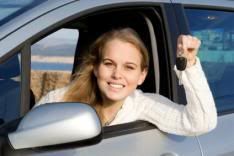 When it's time to purchase a new vehicle, we usually take a few things into consideration, such as price, style, size and urgency of need.  Once we have a good idea what we want and need we're off to the dealership to see what's offered and what we can afford.  In order to help us better, a salesman at the dealership will ask us a series of questions in order to pin-point exactly what we're looking for and to hopefully assist us in qualifying for a loan. 
Has Hilary points out, there are only two objections in the car business; the value of the car and our ability to afford it.  If we've found the car of our dreams, then determining how much money we're willing to spend becomes the primary factor in the sale, and discovering what kind of buyer we are helps to determine the magic button, – the point where vehicle and cash come together beautifully, the point where the customer says, Yes! 
Hilary gives a great example: 
Let's say you've got your heart set on a BMW that comes in at $550.00/month, but it's a little over your monthly budget, so you're ready to settle for that nice and comfy Volvo because it's $70.00 less and priced right at $480.00/month. What you may fail to realize is simply that if you really want the BMW, the value of the car may actually be worth spending the extra cash. Perhaps if you could get your payments closer to $500.00, you would be in a much better position to actually purchase the BMV, rather than the Volvo. This is a good time to tell the salesman or financial office that if they could get your financing closer to $500.00/month, you're a buyer for the BMW.  This way, they're also in a much better position to try to make the BMW more affordable for you, and at the same time, create more value for their product. 
Generally, there are four types of buyers or any combination of the following:  
Trade Buyer:  This buyer has researched the trade value of her car and will focus on what the dealer will give her in trade value.
Discount Buyer: This buyer is looking for a good deal and deep discounts; make and model generally aren't a factor.
Payment Buyer: This buyer is looking for a good, dependable vehicle which will easily fit into her monthly budget.
Difference Buyer:  This buyer is concerned with the difference between their trade and the new vehicle.
A Trade Buyer concentrates on the trade and the trade-in value: How much will you give me for a trade-in? I know the Kelley Blue Book value is…
A Discount Buyer is seeking out the best deal for her money.  She wants a good discount, maybe a rebate and other incentives.
A Payment Buyer is looking for a vehicle that fits her monthly financial budget.  She may not care how much the car costs, but she wants to make absolutely certain it fits her monthly terms.  She's a stickler and usually won't go over her monthly payment allotment.
A Difference Buyer concentrates on the difference between their trade and the new car.  They know exactly how much they want to spend and exactly what they want to buy.  They may say, Your selling price is $25,000.00, so I'll give you my car and $8,000.00.  Do we have a deal?  Chances are they may miss the mark by more than a few thousand dollars, but they're willing to give it a good try. 
I'm a combination of payment buyer, discount buyer and a trade buyer; I want something that falls into my monthly payment range quite nicely, however I'm never one to miss scooping out a good deal and getting the most for my money. If I can come close to making the BMW fit into my budget has described in Hilary's example above, I'm willing to spend the extra money to make it work.  I also know I'll probably get good trade-in value later on down the line.
What kind of buyer are you?